Ho Chi Minh City's Health Department reported Saturday the city's second swine flu related death, that of a 56-year-old woman, on September 4 at Nhan Dan Gia Dinh Hospital, bringing the country's total A/N1N1 deaths to three.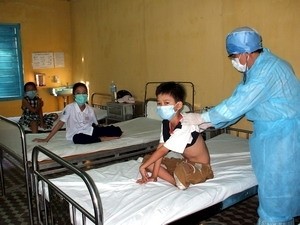 A doctor examines a pupil contracting A/H1N1 virus
The patient, N.T.X from Binh Thanh District's Ward 12, who was mentally ill, was admitted to HCMC Psychiatric Hospital on September 3 after being delirious and physically very ill.
Later the same day, the hospital transferred her, after running up a fever of 40 degrees Celsius, to Nhan Dan Gia Dinh Hospital, where she was diagnosed with septicemia, server pneumonia and mental disorder.
Though the case was not attested to A/H1N1 flu, the hospital tested her for A/H1N1 and provided her with Tamiflu.
One day later, she died of pneumonia and respiratory failure.
The city's Pasteur Institute tested her throat and nose fluids. The tests showed she was positive for the influenza A/H1N1 virus.
Dr. Nguyen Van Chau, head of the city's Health Department, said before getting the flu, Ms. X had completely stayed at home.
She was living with her husband and two children, but so far none of them have had symptoms of A/H1N1 and remain healthy.
Vietnam reported its first swine flu fatality – a 29-year-old mother-of-two from the central province of Khanh Hoa – on August 4, and its second – a 52-year-old woman – on August 11.
The department also said Saturday that many students contracting the virus in the city need to be supervised.
On September 5, when the new school year started, six schools were found to have students with the virus, including Nguyen Huu Huan High School and HCMC University of Agriculture and Forestry in Thu Duc District, Asia-Pacific High School in District 1, Ngo Tat To Primary School in Phu Nhuan District, Colette College in District 3 and Hong Duc High School in Binh Tanh District.
In addition, some schools have been isolated and tightly supervised, including Lam Son and Hau Giang primary schools in District 6, Nguyen Khuyen High School in Tan Bin District, Nhan Van High School and Primary School in Tan Phu District, and Le Loi High School in District 3.
As of September 5, Nhan Van School had 279 students being positive for the virus, Lam Son School 104, Nguyen Khuyen 33 and Hau Giang 32.
Dr. Nguyen Huy Nga, director of the Department of Preventive Health and Environment, said Vietnam recorded 187 more cases of A/H1N1 influenza on September 5, a record high for a single day, raising the total number of swine flu cases in the country to 3,482 with three deaths.