A 52-year-old woman died of swine flu on Monday at Ho Chi Minh City's Pham Ngoc Thach hospital, the city Department of Health confirmed on August 11. It takes the death toll in Vietnam to two after an earlier fatality in the central province of Khanh Hoa.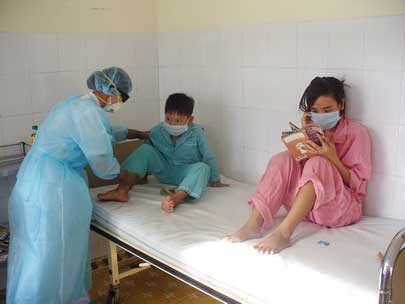 The son of the first fatality (L) is treated in the hospital in Khanh Hoa province(Photo; Tuoi tre)
Tran Thi Binh in Ba Thang Hai Street of District 10 was admitted to a local hospital on August 6 with a severe cough, fever, pneumonia, and breathing problems.
The hospital then decided to transfer her to People's Hospital 115 where her condition worsened.
X-rays showed severe damage to both her lungs. Despite treatment, she suffered respiratory and kidney failure and her blood pressure fell.
Subsequently, experts from the Tropical Diseases Hospital took nose fluids from her for tests which showed she had the H1N1 virus.
She was rushed to Pham Ngoc Thach Hospital on August 10 in a coma and died despite doctors' efforts.
Dr. Nguyen Van Chau, head of the DoH, said Ms. Binh had Down syndrome, one of the most common causes of developmental disabilities, and some other diseases, and as a result had low resistance to the virus.
But it is not known how she contracted the virus.
The District 10 Preventive Health Department and the hospitals disinfected the ward and isolated her body as well some of her relatives who had been in close contact with her.
The Vietnamese Ministry of Health reported 33 more cases of swine flu on the same day, bringing the number of infections to 1,211. Of them, 883 people have recovered and left hospitals.
The flu has been spreading among students in Hanoi, with the city Preventive Health Center reporting that some students at the University of Pedagogy were infected. The school has told parents to keep track of their children's health.
Students at a secondary school have also tested positive for the virus.
A Coop Mart outlet in the Central Highlands province of Gia Lai was closed August 11 after an employee was found infected. The supermarket has been disinfected and will reopen after two days.

Related article;
Vietnam records first swine flu death