Thirty five more people have tested positive for swine flu, taking the tally in Vietnam to 166, the Ministry of Health announced July 1.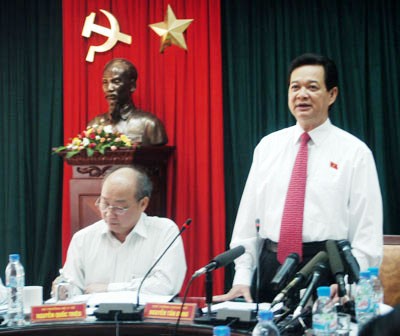 Primie Minister Nguyen Tan Dung ( stand) orders Health Minister Nguyen Quoc Trieu (sit) to monitor the disease strictly
All of them are airline passengers in the south.
The outbreak remains concentrated in the south where 144 people have tested positive so far.
Health authorities are scrambling to trace other passengers who traveled on the same flights with the 35 infected people.
Of 35 new confirmed cases, Ho Chi Minh City reported 20 more people have tested positive for swine flu on July 1, taking the number in the city to 128. Of them, 82 have recovered and been discharged from hospitals.
Around 7,200 passengers arrived at the city's Tan Son Nhat International Airport on July 1 from pandemic zones were screened for flu symptoms by medical staff. Of them 48 suspected to have the illness were quarantined.
The city Department of Health issued a warning against taking antibiotics without prescriptions, urging people to go to medical centers rather than self-prescribe drugs.


According to the World Health Organization, as of July 1, 120 countries had officially reported 77,201 cases of influenza A (H1N1), including 353 deaths.

Norway confirmed seven cases: The seven confirmed cases are crew members and passengers of a cruise ship. They did not leave the boat during their illness nor during the 24 hours preceding the onset of symptoms.