Vietnam has been unsuccessful in raising the breastfeeding rate during the first six months of life for 25 percent in 2010, said the deputy head of the Health Ministry's Department of Mothers and Children's Health, Nguyen Duc Vinh, at the signing ceremony of memorandum of improving nutritional status in newborn infants and children on November 4.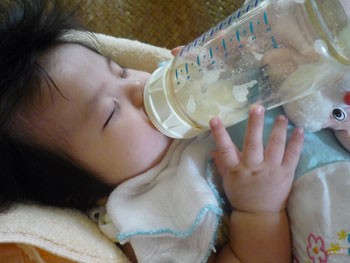 In recent years we have seen an increase in bottle-feeding for infants. (Photo: KK)
Milk enterprises have exaggerated benefits of their products; health officials have not made any attempt at providing mothers the best consultancy on the importance of breastfeeding, experts explained.

According the latest research, only 10 percent of mothers in Vietnam breast feed their babies during the first six months of life; 50 percent of children in Vietnam are breastfed within one hour after birth; and 60 percent of mothers feed their children with baby foods in the first three days after birth.