Every year around 40,000 Vietnamese travel abroad for medical treatment, taking with them some VND40 trillion (nearly US$2 billion) to cover expenses, according to a recent survey by the Ministry of Health.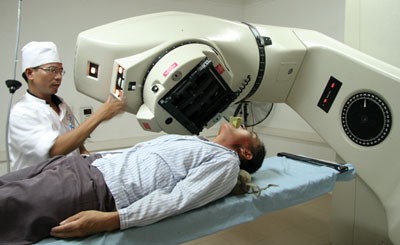 Many hospitals in Vietnam are well-equipped to satisfy the demand of patients ( Photo: SGGP)
Though so many medical services and skilled doctors are available within the country, affluent patients still prefer to go abroad for treatment, which is a dilemma that Vietnam's health authorities have to confront.
This situation is causing a huge drain of foreign currency from the country annually. Tran Quy Tuong, deputy head of the Examination and Treatment Management Department, said besides popular destinations like Thailand, Singapore and China, people also choose the US, France and Australia for advanced medical treatment.
Returning from Singapore after a cornea transplant for her mother, Huong, director of a private textile and garment company, expressed her satisfaction. She said hospitals in Vietnam are so crowded that it is time-consuming; hence she decided to take her mother to Singapore where she had to wait only one week to receive excellent treatment at a well equipped hospital.
She was quite satisfied with the service abroad and felt the money was well spent, even though the treatment was quite expensive.
Despite the rush for treatment abroad, and after spending hundreds of dollars, many patients still have to be retreated in local hospitals on their return.
Dr. Nguyen Tien Quyet, director of Viet-Duc Hospital in Hanoi said very many people spend money on quacks, which only worsens their condition, as they get introduced to second or third rate hospitals.
Viet-Duc hospital sometimes admitted five or six cases of persons who had liver or kidney transplants done, but suffered complications.
According to the Ministry of Health, Vietnam has made great progress in organ transplant, IVF procedure, heart operations, bone and pediatrics but medical fees remain small comparatively. For instance, a kidney transplant in the country costs only VND100 million ($4,798), one third that in Thailand or China.
Tuong said thanks to investments much in key technology--the health sector has achieved much and not only satisfies Vietnamese patients but also foreigners. According to the latest survey of the General Statistics Office, the number of foreigners coming to the country for study and medical treatment increased 2.1 percent in 2012 with 360,000 people seeking medical consultation within Vietnam.