The family practitioner model will be initially launched in Hanoi, Ho Chi Minh City, the northern city of Hai Phong, Thai Nguyen, the central provinces of  Thua Thien-Hue, Khanh Hoa, the Mekong delta city of Can Tho and Tien Giang province from July 15.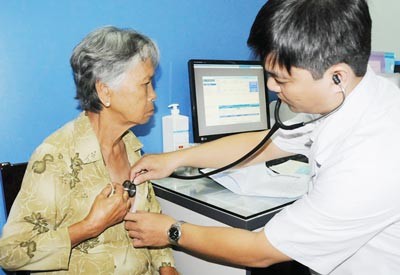 A family practitioner is examining a patient in District 10 Hospital (Photo: SGGP)
The model is a part of the Health Ministry's efforts to reduce the current overloading in central hospitals nationwide.
Family physician clinics can provide insurance health care services. According to the Ministry of Health's circular, family practitioner, who are certified in family medicine, will be responsible for providing continuing and comprehensive health care for the individual and family across all ages, genders, diseases based on knowledge of the patient in the context of the family and the community, emphasizing disease prevention and health promotion.
In addition to giving health care services to patients, family doctors will also give consultations and guidelines for prevention of diseases, thus enhancing the public capacity in health protection.
The ministry's circular also prescribes regulations for family medicine clinics, that can be set up privately by the doctors or as part of a private or public hospital. Family medicine clinics have to set up medical document of each individual and families and they must not unveil personal health information under the Vietnamese law.
The government will decide examination and treatment price offered by state-run family medicine facilities. If family medicine clinics are privately managed, the price must be displayed in easy-to-see places.
According to the World Organization of Family Doctors (Wonca), the aim of family medicine is to provide personal, comprehensive and continuing care for the individual in the context of the family and the community. The issues of values underlying this practice are usually known as primary care ethics.