With the World Health Organization (WHO) raising the swine flu pandemic alert level to phase 5, the Vietnamese Ministry of Health held a meeting with WHO on April 30 to discuss the measures the country is taking to cope with the H1N1 epidemic.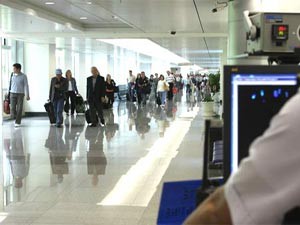 Passengers arriving at Tan Son Nhat International Airport go past a scanner that checks their body temperature. No swine flu cases were detected among arrivals until April 30. 
The risk of a major swine flu epidemic is looming over the world, Dr Nguyen Huy Nga, head of the Department for Preventive Health and Environment and the Ministry's spokesperson, said.
She called on everyone to strictly comply with the Ministry's instructions but without panicking.
Everyone must ensure personal hygiene, washing hands carefully, and people with respiratory diseases should wear masks and avoid crowded places, she said.
People should avoid travel to swine flu zones, but if it is unavoidable, they must follow the precautionary measures recommended by health authorities, she said.
Those who have returned from such areas and are developing cough, headache, fever, or fatigue should immediately contact the local health agency for isolation and treatment, she added.  
People coming to Vietnam from areas with swine flu must report to health authorities and should accept quarantine if recommended by health agencies, the Ministry said.
Though no swine flu outbreaks have been reported in Vietnam so far, the Ministry ordered official agencies to make contingency plans.
On April 30 the HCM City Department of Health issued 500,000 new health declaration forms with instructions for preventing H1N1 swine flu to the International Health Quarantine Center and 20 domestic and international carriers.
All passengers flying in to Tan Son Nhat International Airport are required to fill these forms.
Around 6,000 people, including 300 from swine flu zones, have been checked but no cases of swine flu were found, the International Health Quarantine Center said yesterday.