With Hong Kong authorities' confirmation that a traveler who arrived from Mexico tested positive for A/H1N1 flu virus, Vietnam should be on high alert for the spread of the pandemic, said the National Steering Committee for Human Influenza Prevention and Control.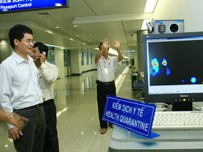 Health quarantine equipment at Tan Son Nhat International Airport in Ho Chi Minh City (Photo: Thanh Nien)
If the epidemic continues to spread around the world, the Health Ministry may expand health quarantine at public places, like bus stations, quays and parks, said Dr Nguyen Huy Nga, head of the Department for Preventive Health and Environment.
Those places will be regularly disinfected, she added.

It will also recommend all agencies to avoid crowded meetings, she said.
The ministry called on the police and armed forces to assist medical workers in conducting health checks for travelers who come to Vietnam, especially from A/H1N1 flu areas.
Symptoms of A/H1N1 flu are almost similar to those of common flu, so it is necessary to closely follow the health of people with flu under treatment at health centers, urged Associate Professor Dr. Nguyen Tran Hien, head of the Central Institute for Hygiene and Epidemiology.
The HCM City Health Department has launched a campaign to fight and control A/H1N1 flu in all of the city's 24 districts, said Phan Van Nghiem, head of the department's Medical Affairs Office.
The department has initially chosen the Thoi An Primary School, in district 12, as a place for receiving and isolating A/H1N1 flu patients in case of a pandemic, Mr Nghiem said.
It also asked other suburban districts to choose suitable places for the same purpose, he said.
About 50 flights with about 7,000 passengers on board flew in to Tan Son Nhat International Airport on May 2, including 2,000 from A/H1N1 flu zones, but no cases of infection were found, said Nguyen Van Sau, director of the HCM City International Health Quarantine Center.
The department asked domestic and international carriers to print new health declarations, which have been posted on the department's website, and give them out to passengers when they register for their flights.
Tran Thuy Minh, head of the Southern Airports Authority, said that her agency has drawn up preventive plans to cope with an A/H1N1 flu pandemic if it breaks out.
The plans include receiving, isolating, treating and transferring A/H1N1 patients, she said.