Ministry of Health of Vietnam reported that South Korea has more three fresh infection cases and two deaths of MERS infection recently, bringing the total inflection cases up to 172 people and 27 fatalities.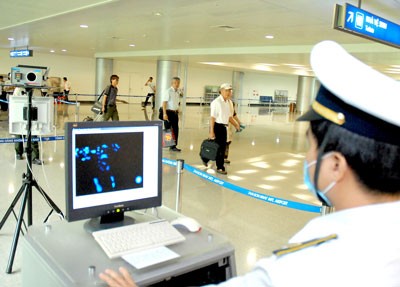 An airport official scans arrivals' temperature  to check possible MERS- CoV signs. (Photo:SGGP)
Statistics showed that Middle East Respiratory Syndrome Coronavirus (MERS-CoV) caused 1, 345 infection cases and 479 deaths all over the world within one month.
Vietnam has reported no cases of MERS-CoV until now; however, transmission risk for MERS-CoV infection into Vietnam is still high, affirmed the Ministry of Health.
In order to actively prevent and control MERS-CoV infection, director of the Department of Health Care Management Luong Ngoc Khue and doctors tested preparedness planning and treatment for the disease at Soc Trang Polyclinic Hospital.
Prof.Luong Ngoc Khue asked Department of Health of Soc Trang province and Soc Trang Polyclinic Hospital to provide information and symptoms of fever, cough and shortness of breath relating to MERS-CoV throughout the community to be able to actively protect themselves and their relatives from the disease.
Dealing with MERS-CoV, the People's Committee of Hanoi spent VND 25 billion for MERS-CoV preparedness planning and treatment.
Department of Health of Hanoi recommended travelers who present with symptoms of fever, cough and shortness of breath from regional effect of disease or contact with someone who is ill and has traveled to the countries, should contact with medical workers or centers.