Government leaders, regulators and drug companies met in Hanoi April 20 to discuss public discontent with skyrocketing pharmaceutical prices, but the talks were inconclusive as the government technically cannot control medicine prices.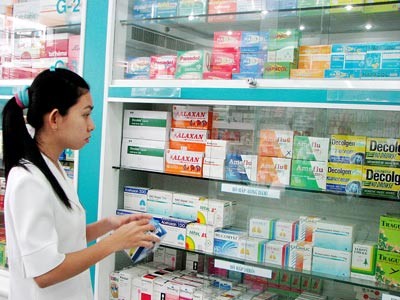 While the public cries for high drug prices, relevant agencies still stump on how to curb price hike ( Photo: SGGP)
Nguyen Van Tien, Vice-Chairman of the Committee on Social Affairs at the National Assembly Office, said the government issued a law on drug prices five years ago. He said that although pharmaceuticals are recognized as "special goods" whose prices are only to be controlled by "free-market mechanisms," the government should curb the price hikes because medicines were an essential item.
Public outrage has been voiced recently against the soaring prices of drugs. Observers say that poor patients can no longer afford essential medicines and that the government must find a way to reduce their prices.
But Truong Quoc Cuong, director of the Drug Administration of Vietnam, said drug prices were stable. He compared pharmaceutical costs to other items in the consumer price index to make an example.
Mr. Cuong said the Ministry of Health would work to ensure a supply and demand balance because he said the government policy was to not control drug prices.
Dr. Nguyen Chi Hung, director of Binh Dan Hospital in Ho Chi Minh City, asked the administration to report on drug production prices and retail prices in regional countries so that the government may use those prices as a reference point when controlling local retail and wholesale prices.
Nguyen Van Tien, Vice-Chairman of the Committee on Social Affairs at the National Assembly Office, said the government should control some 500 essential drugs, compared to the 22,000 kinds currently used in Vietnam, to satisfy the public.
Le Thanh Liem, head of the Department of Health in the Mekong Delta province of Long An, complained that there were problems with the tender process at hospitals.
According to Liem, a list of standardized drug prices is needed to facilitate bidding at hospitals in Vietnam because each drug is manufactured by different local and foreign companies and the prices vary too much.
For example, he said a locally-made low blood pressure drug is sold for VND400 but a similar French-made medicine fetches VND8, 000.
Ngo Tung Chau, head of Department of Health in the southern province of Binh Duong, said there were no standards available to determine drug quality and appropriate prices.
Ms. Pham Khanh Phong Lan proposed that more made-in-Vietnam drugs be used in the country as 22 drug manufacturers in Ho Chi Minh City have certified Good Manufacturing Practices and can produce medicines that area as high in quality as imports.
But Mr. Cuong from the administration said Vietnam should not give preferential treatment to domestically-made drugs for fear that other countries would cry discrimination.