Seven more cases of the A/H1N1 flu were confirmed by the Ministry of Health on July 4, bringing the total of infected people to Vietnam to 215. Among them, South Vietnam has 187 cases, the Central region nine and the North with 19 cases.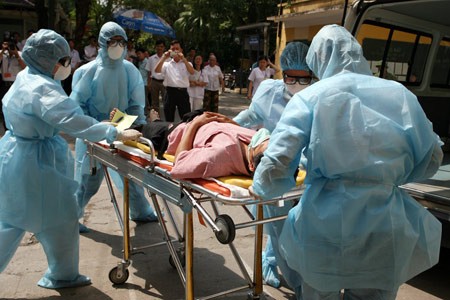 Transporting a flu patient to hospital
The seven new patients include five in South Vietnam and two in the North.
Health Departments and Preventive Medical Centers are conducting quarantines and keeping close monitoring of the seven new cases.
To cut the risk of a wide spread swine flu outbreak, the ministry has asked provinces and cities across the country to plan measures to deal with a possible increase in patients, prevent the flu spreading in the community and minimize the number of deaths, though no deaths have yet been reported.
The ministry has also closely coordinated with ministries, departments, local authorities and relevant agencies and the World Health Organization to keep track of the situation.
The ministry warned that those with flu symptoms, like fever, cough and sore throat, should be isolated, wear face masks, and report to the nearest health clinic.
It also recommended not taking H1N1 infected people to hospitals by public transport.
On the same day, the WHO also confirmed a total of 89,921 cases of the A/H1N1 flu virus in 125 countries and territories, including 382 deaths.
In the Southeast Asia area, the Philippines reported 1,709 cases of A/H1N1, including one death, Singapore: 878 cases, Thailand: 1,414 cases, including five deaths.