The percentage of people having health insurance must be over 90 percent by 2020 because taking care of people's health is one of the most important things in stabilizing social security, said Prime Minister Nguyen Xuan Phuc at a national online conference on June 3rd.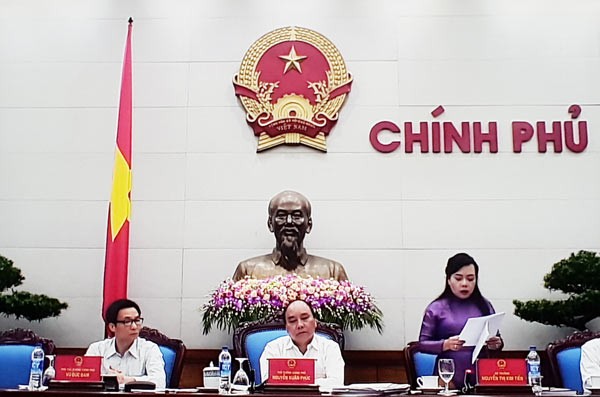 At the meeting on health insurance coverage (Photo: SGGP)
Accordingly the health sector and related agencies must concentrate carrying out their work to reach the target.

PM Phuc said that during 25 year implementation of health insurance policy, the health sector and other sectors have made much efforts resulting in 76 percent of population having health insurance.
The goverment wants the rate of health cardholders makes up 90 perc so that all residents can benefit the social welfare especially the poor.
Director of the Vietnam Social Insurance Nguyen Thi Minh said that in 2015 the sector made concerted effort to increase the health insurance coverage rate to 76.5 percent of the total population in 2014 and will be over 78 percent this year.
Ms. Minh petitioned to the PM that the PM should approved the sector to expand its network even mobilizing enterprises, medical clinics and post offices to sell health insurance in a bid to facilitate people's purchasing health insurance to early finish the coverage target of 90 percent of the total population. If people buy health insurance in family, members could buy insurance in different time and they enjoy reduction since teh second member buy it.
Ms. Minh also asked the Ministry of Health to improve medical quality to attract more participation as well as to have clear road map for price hike of medical services. The Ministry of Defense and the Ministry of Public Security should encourage more soldiers to buy health insurance in 2017.
Furthermore, the Ministry of Fiance should balance the budget in order to raise support for families whose economic condition is nearly poverty line; families that work in agri-fisheries- forestry sector with average living condition and students. The Ministry of Education and Training must encourage students to participate in health insurance in 2017.
In addition, leaders in cities and provinces should consider increasing health insurance buyers is one of annual socio-economic growth quota. Health insurance is compulsory under Vietnamese law - having health insurance is in everyone's best interests and is everyone's responsibility.
Ms. Minh said that the Vietnam Social Insurance Company has calculated detailed support for members of families whose economic condition is near poverty line and low-income families. As per the plan, in 2016 the government should allocate VND450 billion (US$20,080,321) while currently the balance in localities is around VND200 billion the rest should be taken from the state budget.
Health Minister Nguyen Thi Kim Tien said that the health sector has improved quality, reducing the overloading in hospitals, as well as issue penalties on medical workers whose behaviors is not good to patients ; total medical insurance spending in 2012 is VND31,100 billion, it increased to VND41,100 billion in 2014  and VND50 trillion in 2015 proving that health insurance holder access to more medical services, said Ms. Tien.
Yet the target of 90 percent health insurance coverage b 2020 is a real challenge; accordingly measures should be applied especially in these province with udner 70 percent.
Deputy PM Vu Duc Dam said that to expand the medical insurance coverage the health sector must improve examination and treatment quality more and no more discrimination between insurance card holders and others requiring paid medical services. The government will continue giving financial support to low-income families, children, farmers and fishermen. Not only giving financial aid to poor farmers, fishermen, and families at closely poverty line but the government should also give support to those who first buy insurance so that people get used to buying medical insurance, said Mr. Dam.
Representatives from Ho Chi Minh City, the northern city of Hai Phong, Hanoi and the southern province of Dong Nai all said that health sector must raise quality more to attract medical insurance participants. Additionally Hanoi representative proposed raising support for students who currently enjoy 30 percent support in buying health insurance and those who buy in family.