At a meeting with the Ministry of Health in the central province of Quang Ngai on April 18, medical experts suggested that Vietnam should now turn to the World Health Organisation to identify the strange skin disease plaguing the people in this region.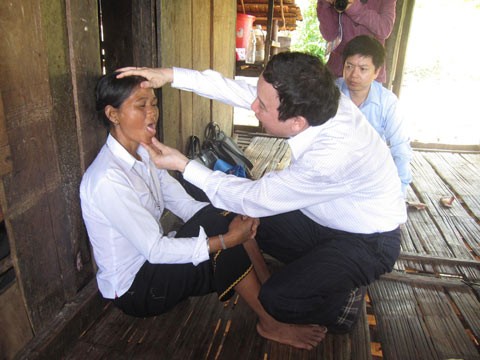 A medic examining a patient in Reu Village
A team of medical experts from the Ministry of Health had gone to Ba Dien Commune on April 13 to study the causes and development of the strange and unidentified skin disease. 
They took samples of soil, hair, skin and various foods, to ascertain causes of the disease but all efforts proved futile.
Consequently, relevant agencies proposed to the Ministry of Health to seek help from the World Health Organisation and the Centre for Disease Control and Prevention, at a meeting with the ministry on April 18 to discuss preventive measures and quick eradication of the disease.
As of now, the Department of Health in the province needs to increase the number of medics and equip the general hospital with blood filtering facilities for treatment.
Le Quang Thich, deputy chairman of the People's Committee of Quang Ngai Province, said the health sector should send medics to communes to treat patients.
The Department of Agriculture and Rural Development has been ordered to provide clean water and other assistance, while the education sector has been asked to encourage students to attend schools.
According to the latest report from the health sector, the province has reported 171 infected cases and 19 fatalities. Since beginning of this year, 63 people are being treated at the Quy Hoa National Leprosy Dermatology Hospital, ten of whom are in critical condition.
Last year the province had recorded more than 150 people with similar symptoms.
Related articles: 
Another succumbs to bizarre skin disease in Quang Nai Province
One more dead from strange skin disease in Quang Nai Province
Bizarre skin disease continues to spread