The Ministry of Health announced at its press conference on August 4 in Hanoi about the free vaccination campaign against measles and rubella that Vietnam has controlled measles as during 7 first months, the country as reported 80 cases of measles in scattered 37 cities and provinces and especially there has no outbreak of the diseases.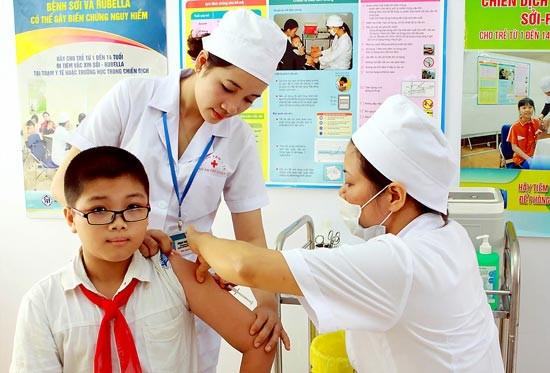 The free mass vaccination campaign against measles and rubella helps to kill the two dangerous diseases (Photo: SGGP)
At the conference, the Ministry said that the free vaccination campaign against measles and rubella for children from 1 to 14 year old has helped to fight the disease in the country in 2015.

Through investigation, it showed that by July, the country had 80 measles infection cases in 37 cities and provinces without outbreaks.
Compared to last year, the infection cases have decreased by hundred times (in 2014, the country had over 15,000 measles cases with over 100 deaths.)

Dr. Tran Dac Phu, head of the Ministry's Health Preventive Department, said that measles and rubella are two dangerous infectious diseases caused by virus. The diseases are transmitted highly and leave consequences on patients.
Worse, there has been no medication for  two diseases; accordingly, vaccine is the most effective way to prevent the diseases.
In early 2014, outbreaks of measles occurred  in many provinces in the country infecting many babies and killing them, the Ministry decided to  implement mass free vaccination campaign for children ages from 1 to 14. The gratis mass vaccination campaign started in September, 2014 to May, 2015.

After 10 months, the campaign has brought out good result; nearly 20 million children from 1 to 14 year old have injected. Most of localities in the country have the rate of vaccination of over 95 percent.

Only 23 disadvantaged and distant communes in mountainous provinces have the immunization rate under 95 percent; hence, the health sector asked these provinces to continue the implementation to achieve the target in August.