The Hanoi-based Bach Mai Hospital yesterday used robot in nerve and knee joint replacement surgeries.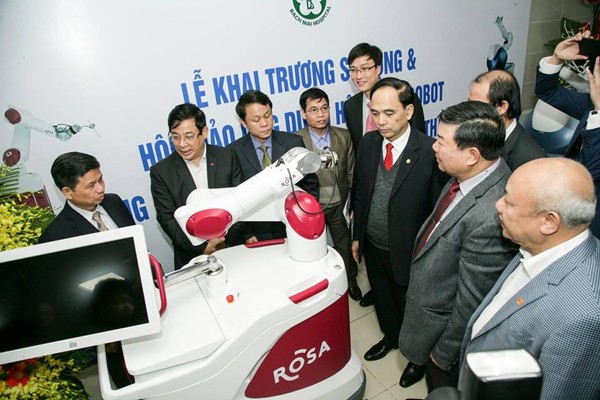 Bach Mai Hospital in Hanoi use robot for neurosurgery for the very first time (Photo: Courtesy of Bach Mai hospital)


This is the firs time a hospital in Vietnam has used robot in brain and nerve operation contributing to boost the application of hi-tech in treatment.

Hospital director Dr. Nguyen Quoc Anh said that the hospital used Mako and Rosa robotic surgery, the most advanced kind in the US currently.
Robotic surgery, or robot-assisted surgery, allows doctors to perform many types of complex procedures with more precision, flexibility and control strictly such kind of the conventional techniques. Robotic surgery is usually associated with minimally invasive surgery — procedures performed through tiny incisions.

At first, medical workers will use robot for performing total hip replacement or partial knee replacement and neurosurgery. It is hoped to bring patients to access hi-tech treatment with appropriate spending compared to it abroad.