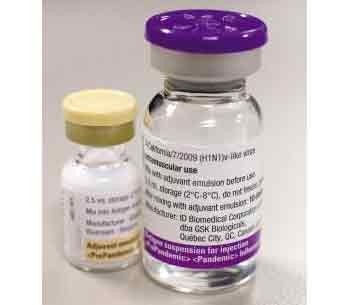 Arepanrix, a swine-flu vaccine made by GlaxoSmithKline, has been withdrawn in Canada after two deaths and other adverse reactions in people. Vietnam has asked WHO for information about the problem.
Vietnam has not received clarification from the World Health Organization about two batches of swine-flu vaccines recently withdrawn in Canada on suspicion of poor quality, Dr. Nguyen Huy Nga, chief of the Preventive Health and Environment Department, told the National Steering Board of Human Flu Prevention December 3.
After Arepanrix H1N1 vaccine made by GlaxoSmithKline caused two deaths and caused adverse reactions in many other people in Canada and killed four in China, Vietnam sought information from WHO about how many doses had been used in Canada, lot numbers, and the number of people with adverse reactions.

It has imported around 1.2 million doses of the vaccine from GlaxoSmithKline through WHO.

Vietnam, worried about getting vaccines from the same batches as Canada, also asked the UN agency to provide another batch of vaccines or use a different supplier.
Related article:
VN asks WHO for H1N1 vaccine direction