A major online survey recently conducted by the Nielsen Company in partnership with the Association Of The European Self-Medication Industry (AESGP) ranked Viet Nam as the number two nation of self-medicators – people who buy medicines over the-counter, rather than seeking the advice of a registered medical practitioner.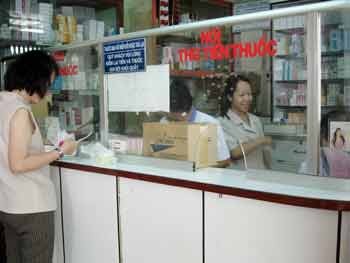 Vietnamese people buy medicines over the counter rather than seeking physician's advice (Photo:U.Phuong)
Some 28,000 respondents from 51 countries were surveyed, and 45 percent of Vietnamese respondents said they have taken medicine for minor ailments such as headaches, colds and indigestion.
It is common for Vietnamese to ask the advice of unlicensed pharmacists or friends when choosing medicine, rather than seeing a doctor and getting a prescription, which is far more costly.
Doctor Nguyen Viet Hung, chief of Bach Mai Hospital's Anti-Bacterial Contamination Department, said self-prescribing medicine can be harmful, with the medicine having no effect, or damaging ones health if incorrectly prescribed. Long-term use of an incorrectly prescribed medicine can cause the body to build up a tolerance, making treatment more difficult, he said, adding that liver and kidney damage was likely if medicines were over-used.
Dr. Hung said 75 percent of allergic cases seen at the department are from self-prescribing antibiotics, and a further five percent are allergies to common medicines like paracetamol.
The doctor advises patients not to buy medicines without specialist advice, and not to be swayed by advertisements for medicine, as they are often misleading.
Doctor Nguyen Nang An, director of the Viet Nam Association of Allergy, Asthma and Clinical Immunology says 60 percent of the poisoning cases he has seen are caused by patients taking nonprescription medicine.
According to Ly Ngoc Kinh, director of the Treatment Department of the Ministry of Health, self-medication has become increasingly popular among Vietnamese. Kinh believed this is due to availability of over-the-counter anti-biotics, and other drugs commonly needing a prescription.
Weak enforcement of regulations covering medicine use also compounds the problem, said Kinh.
Ministry of Health regulations forbid the sale of 48 types of medicines without a doctor's prescription.