The U.S. people have given strong support to Vietnamese Agent Orange (AO) victims, affirmed Vice President of the Viet Nam Association for Victims of Agent Orange/Dioxin (VAVA) Tran Xuan Thu at the Monday press conference in Ha Noi.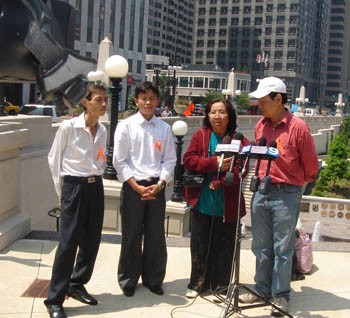 Vietnamese AO victims attend an interview by the press in the U.S.
The delegate talked about the delegation's trip to the US to attend formal discussions in New York and to acquire public support for the lawsuit.
Mr. Thu said that the Vietnamese AO victim delegation, with the slogan "Justice for Vietnamese AO Victims", has so far visited six of America's biggest cities and have held meetings with many lawyers, scientists and U.S. war veterans, many of which have displayed strong understanding and support for the Vietnamese victims'  and their fight for justice.
The delegation has held 20 talks, one of which took place at the Martin Luther King Center on June 16 and involved the presence of three Vietnamese AO victims who talked about the enduring pains that the three million people exposed to Agent Orange are suffering from.
In all the meetings, the Vietnamese delegation stated that the toxic chemicals' impact on environmental and human health in Viet Nam is undeniable, and yet US chemical producers have avoided taking action or paying compensation to those Vietnamese victims.
On June 19, in a meeting with the Vietnamese AO delegation, public health professionals, scientists and environmentalists confirmed the harmful affects that the dioxin chemical has had on the Vietnamese population.
They will hold a discussion on the effects of dioxin on the Vietnamese people and will issue a resolution to the victims' lawyers by the end of the year.
After a meeting between the Vietnamese delegation and the people of San Francisco on June 26, the City's council issued a statement in support of the Vietnamese A/O victims.
Four major television networks in New York, Washington, Chicago and San Francisco featured the activities of the delegation, which received a lot of attention from the press in general.
AP, Reuters, Channel 4, Newsday and the New York Times conducted interviews and printed articles about Nguyen Thi Hong, Nguyen Van Quy, Vo Thanh Hai and Nguyen Muoi, four Vietnamese AO victims.

Mr. Thu said that the panel of judges present for the discussions on June 18 seemed receptive to arguments about the harmful effects of the dioxin chemicals that the U.S. Army used during the war with Viet Nam. The council was, however, not  fully aware of the toxicity levels of Agent Orange.