Doctors of the People Hospital 115 have successfully inserted a defibrillator into a heart patient.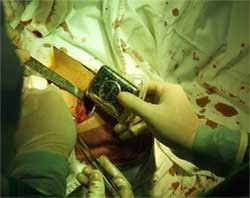 Doctors inserts the machine in the patient's chest
Dinh Van Su, 37, in Dak Nong often faints and once was saved from sudden death.
He was identified to have trouble at the left ventricle whose function performs only 28%-38% meanwhile that of the normal person is over 55%.

It is the first time in Viet Nam Dr. Pham Huu Van inserted successfully defibrillator in his chest without the assistance of foreign experts.
When the patient has arrhythmia, the machine will emit electricity to cut the arrhythmia and stimulate his heart.
With the help of sponsors, the patient did not have to pay the hospital charge, worth over US$10,000.