The government called for the Vietnamese people to use homemade medicines, as local drugs are slowly moving to the back burner whilst prices of commercial medicines are proving a daily burden on patients.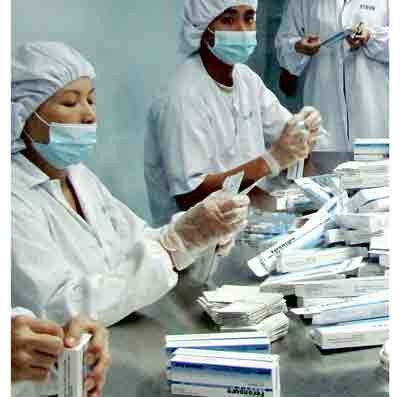 Production of drugs at a Vietnamese pharmaceutical company (Photo: SGGP)
According to the Vietnam Drug Administration, domestically made medications meet more than 50 percent of the demand but all of them are normal drugs like Paracetamol, Amoxicillin and Ampicilin.
However, as a company director of a pharmacy noted, the quality of different companies is not the same as it depends on material origin, preservation and production procedures.
That is the reason why representatives of Boston Pharma Vietnam Company, whose plant is located in the southern province of Binh Duong, usually display their certificates of quality to convince customers. Boston Pharma Vietnam produces heart or endocrine drugs like Clopalvix 75 mg, Bostarel 20mg, Bisolcor or Amiride and Glicron that are all in great demand.
Vietnam is consuming more than 80 percent generic drugs from India, Pakistan, S. Korea, Thailand, Germany or France. However, medical experts and workers maintain that domestically made drugs are equal in quality to their foreign counterparts. 
Dr. Nguyen Dai Bien, a division chief in Peoples Hospital 115, said Vietnamese medication for treating diabetes and blood pressure works similar to their Indian or Swiss counterparts but is much cheaper. Dr. Bien therefore prescribes homemade drugs to reduce the expense burden on patients.
However many doctors and patients have a great fondness for foreign-made drugs as they belief that foreign made drugs are superior to local made ones.
Dr. Pham Khanh Phong Lan, Chairman of the Ho Chi Minh City Pharmacy Association said they always reminded doctors to prescribe local-made medicines to patients. To increase the belief of doctors to country-made drugs, producers should bring doctors to their plants to watch the manufacturing procedures, she added.