Traditional medicine is the country's treasure and it has great potential to develop, Prime Minister Nguyen Xuan Phuc was quoted as saying at a conference on traditional medicine held in Lao Cai province.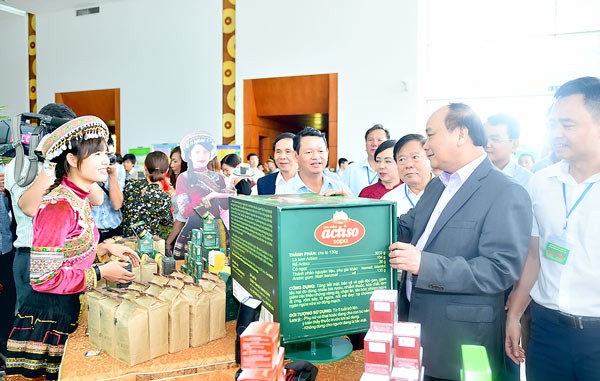 Prime Minister Nguyen Xuan Phuc visits some booths featuring Vietnamese pharmaceutical products on the sidelines of the conference (Photo: SGGP)
Presiding the teleconference with leaders of 63 cities and provinces nationwide on April 12, the PM noted that Vietnam has tradition to use herbs as medications with many famous herbs; accordingly the government has issued policies on combination of traditional and modern medicines. He added that herbs can be planted in every corners of the country for domestic demand and exports.

He called for supporting herbal plant growing as part of high technology agriculture development, while stressing the need to ensure confidentiality of some rare and precious herbal plants.

As per the Institute of Medicinal Materials's statistics, the country has more than 5,000 herbal plants and mushroom, 408 animals and 75 minerals with medicinal value used as materials for nearly 1,300 traditional remedies, which are a great advantage for localities to exploit the resources for domestic use and exports.

Health Minister Nguyen Thi Kim Tien stressed that  there are many precious and rare herbs including Ngoc Linh ginseng (Panax vietnamensis or Vietnamese ginseng),

During statitic reports of local medical herbs, reseachers have collected nearly 1,300 folk remedies from ethnic minority groups.

The Health Minister pointed out a paradox that Vietnam has many preciuos and rare hebrs but traditional medicines have met only 25 percent of the local demand and depended much on imports.

Currently, just around 206 herbs can be exploited from the nature while many rare herbs are on the brink of extinction. French and the US have known to extract taxol substance from Red pine (taxus wallichiana zucc) for making up the medicine for cancer treatment which was sold in the market since 1994, earning tens of billion dollar each year while Vietnam with forest of the tree in the highlands of Lam Dong province is unable to make the medication.

The PM said that it needs clearer policies to boost the local herb sector grow even changing the regulation.  He highly praised some localities which took heeds to the development of the pharmaceutical sector using herbs. Initial results showed positive signs.

Drugs made from herbs increased by 10 percent per year. Moreover, 59 cities and provinces have hospitals to provide traditional medicines and medical centers in districts gardens to grow herbs. .

He suggested related health agencies to invest in traditional medicine research, asking ministries, sectors and localities to raise public awareness of traditional medicine and encourage innovation and entrepreneurship in this field. Moreover, these agencies and enterprises need to promote Vietnamese herbs.

He stressed that developing herbal medicine must be the health sector's strategy; therefore, there should have special policies to improve the pharmaceutical sector, herb planting and pharmaceutical industry. Governments in big cities need to set up plants in herb growing areas and centers to sell herbs in the North, the Central, the South and the Highlands.

The PM asked the Ministry of Health in coordination with the Ministry of Science and Technology and related agencies to build up a major program on herbs focusing on preserving gene and development of rare herbs.
Additionally, they must discover and register as well as buy traditional remedies. The Ministry of Health has to select herbal products from rare medicine with high value as the national products and have special treatment on it.

The Ministry and the Viet Nam Material Medical Society were asked to select 100 rare herbs amongst 5,000 kinds to grow and produce medicines from them.