With over 50 years of practicing and teaching Vietnamese traditional medicine, particularly acupuncture, Prof. Nguyen Tai Thu has become a renowned name in the field at home and around the world.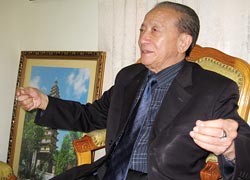 Prof. Thu speaks about Vietnamese traditional medicine (Photo: SGGP)

With his master-of-art acupuncture skills, Prof. Thu has helped thousands across the world and taught acupuncture to a large number of local and foreign doctors.
Now 78, he is still active. He has a great memory and can recall events long-past.
About two decades ago, the Mexican Committee for Science, through Vietnam's Foreign Ministry, invited Prof. Thu to Mexico to help the country's Polytechnic University develop the faculty of acupuncture.
He accepted the invitation with great delight as it was an opportunity to introduce the cream of Vietnam's acupuncture to Mexican doctors and patients.
After conducting several training courses for doctors at well-established universities and hospitals in Mexico, Prof. Thu gained their confidence. Since then, he still takes annual trips to help doctors improve their skills and take part in diagnosis and treatment of patients.
Initially, the aim was to stay in Mexico City, but with his fame widespread, many other cities, such as Acupulco, Zacatecas and Monterray, sought his teaching.
A highlight of his career came in 2000, when Mr. Robert Anaya, General Secretary of the Mexican Labor Party, on a visit to Vietnam officially asked Vietnam to provide Mexico with knowledge of acupuncture and help setting up acupuncture centers.
Assigned by Vietnam's Ministry of Health, Prof. Thu coordinated with the Central Acupuncture Hospital to make plans to aid Mexico.
He set up a team of skilled acupuncturists, arranged for machines and equipment to be transported to Mexico and prepared programs for potential acupuncture centers.
After six months of preparation, the first Vietnamese acupuncture center, a teaching hospital named after President Ho Chi Minh, was inaugurated in Monterray.
Following the center's success, three other centers have been set up in Zacatecas, Mexico City and Chihuahua, said Prof. Thu.
 
Through the work of these centers, Vietnamese acupuncturists have helped many Mexican patients with serious diseases.
Over the years, Prof. Thu has been invited to more than 40 countries to teach acupuncture. Thousands of doctors from around 30 countries have come to the Central Acupuncture Hospital to understand and practice acupuncture.
In light of his considerable contribution to the development of traditional medicine, President Nguyen Minh Triet has conferred on him the titles of 'People's Physician' and 'Labor Hero'.
Devoting his life to teaching and practicing acupuncture, Prof. Thu said his greatest happiness is to see patients recover after being treated and to promote Vietnam's invaluable traditional medicine to the world.