The Children Hospital No.1 in Ho Chi Minh City yesterday said that surgeons have successfully performed an operation on 7-year-old girl with Klippel-Trenaunay syndrome and venous abnormalities which involve the pelvic or abdominal organs resulting in bleeding from the rectum, vagina or urinary bladder.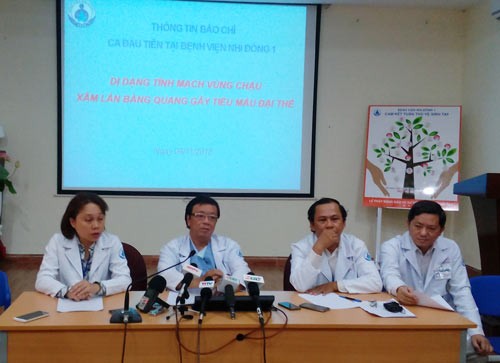 Doctors of the Children Hospital No.1 say about the case in a press meeting (Photo: SGGP)
Dr. Dao Trung Hieu, deputy head of the hospital said that the hospital admitted 7 year old girl Nguyen Thao Vy in HCMC's Go Vap District. She was hospitalized when she feels difficult to urinate and urinate with blood.
Doctors diagnosed that she suffered Klippel – Trenaunay syndrome with venous abnormalities causing bleeding from urinary bladder.
Worse, through scan, doctors detected that her urinary bladder has many clotted blood and venous abnormalities in edge of urinary bladder and pelvis.
 
Moreover, when seeing scan of her legs, doctors concluded that she has mixed venous abnormalities and lymph occupies all her legs; for the future, lymph will invade pelvis and edge of urinary bladder.
 
Surgeons decided to examine her bladder with Cystoscopy which is a procedure to see the inside of the bladder and urethra using a telescope to verify and to stop bleeding temporarily.
After 12 days under doctors' observation, the girl undertook a surgery to remove a part of bottom of the bladder which has venous abnormalities.
 
She is now recovering and medical tests show that her heartbeat and urine are normal.