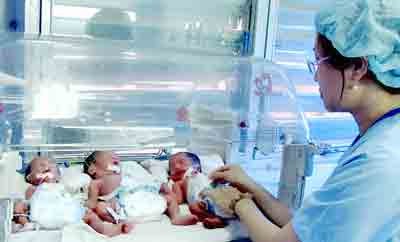 The happy foursome inside the incubator (Photo: SGGP)
Yesterday in a hospital in Ho Chi Minh City, 21-year-old Le Thi Viet Trinh gave birth to quadruplets, three girls and one boy.
She underwent a cesarean operation at the Nhan Dan Gia Dinh hospital in Ho Chi Minh City after 32 weeks of pregnancy.
Although all her children were born healthy, they are at present still in an incubator at the hospital, according to Dr. Hua My Trang.
Trinh was married two years ago and the quadruplets are her first children.
Trinh had a health check up at the Tu Du Obstetric Hospital two days ago, but there the doctor did not give any indication that she may have to deliver so soon. When she returned to her relative's house near the Nhan Dan Gia Dinh Hospital she suddenly felt severe labor pains and was rushed to hospital where doctors operated without delay.