The Vietnam's first stem cell bank, MekoStem, was inaugurated in HCM City February 15 and is promising to use depositors' stem cells to reconstruct their skin tissue when needed.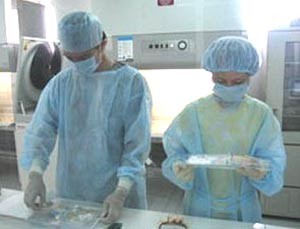 Scientists examining and preserving stem cells
The bank was established by Dr. Phan Toan Thang and Professor Pham Manh Hung, a senior science and technology adviser to the Communist Party Secretariat. The bank is an investment, worth VND10 billion ($571,000), by Mekophar Chemical Pharmaceuticals. The bank is also sponsored by the Ministry of Science and Technology.
 
The bank has already received an operational license from the Ministry of Health.
 
Its function is to preserve stem cells and later provide them for local hospitals for research and treatment.
 
MekoStem can store people's umbilical cords and amniotic membranes for up to 25 years, at a cost of $2,500. After a period of 25 years, customers can sign another contract to continue their savings at the bank.
 
According to Phan Kim Ngoc, Head of the Biotechnology Laboratory on Fauna at the University of Natural Sciences, HCM City, experts will extract stem cells from the mucous membranes of the mouth, skin, blood and marrow of patients.
 
Dr. Ngoc said the use of a patient's own stem cells would help ease the job of surgeons by reducing the body's rejection of transplanted parts.
 
When asked about the conditions required to preserve cells, Dr. Le Van Dong, from the Military Hospital, said that the cells are preserved in an environment of liquid nitrogen at -196C. The cost for the procedure from preserving, testing and extracting stem cells will range from $800 to $2,500.

The bank is also working with the Corporation for Financing and Promoting Technology– one of Vietnam's leading IT firms – to set up a stem cell research company in Ha Noi.

The company, known as FBM Regenerative Biology and Medicine Joint-Stock Company (FBM), has already developed three skin care products.

However, the products are only available at dermatology and venereology hospitals and plastic surgery centers in Ha Noi and Vung Tau Province.

In addition to skin care, FBM is researching products for the treatment of injuries caused by diabetes, bone fracture and osteo-arthritis.