The Emergency Operations Center (EOC) in Hanoi yesterday convened a meeting to assess the development of the Middle East Respiratory Syndrome Coronavirus (MERS-CoV) in the world and disease prevention mission in Vietnam.
Representatives from the World Health Organization and from the U.S. Centers for Disease Control and Prevention (U.S. CDC) asserted that the disease was not threatening the global health.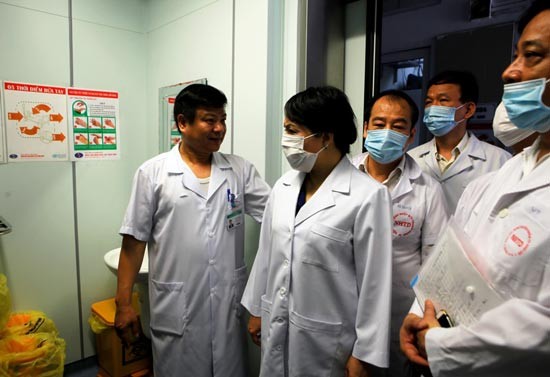 Vietnamese Health Minister Nguyen Thi Kim Tien inspects preparation in the Central Children Hospital in Hanoi(Photo: SGGP)
WHO pointed out some factors contributing to fact transmission in South Korea, including MERS-CoV being a new disease, poor control of bacteria contamination in hospitals and habits of visiting ill relatives in hospitals.
From reality of South Korea, Deputy Health Minister Nguyen Thanh Long asked health agencies  to keep updating news on the disease in the world and include more prevention measures.
More important, health agencies should beef up supervision in border gates and in the community to early detect infection cases and enhance information of the disease to residents and medical workers, said the deputy minister.
At present, the health sector should encourage people to wear face masks in hospitals and often wash hands with soaps.
The Ministry also wants localities to set up quick response teams to deal with situations and big hospitals to establish assistance teams  to help medical centers in districts and communes.
On the same day,  Health Minister Nguyen Thi Kim Tien  liaised with Hanoi-based Central Tropical Disease Hospital and People's Committee in Hanoi about disease prevention mission. After checking the prevention of the disease in Hanoi, Health Minister Tien lauded the preparation and medical workers' good spirit.
Ms. Tien also reminded of transmission among patients in a hospital, training courses and provide assistance to district medical centers.
In addition, health sector should give information of the disease and the ministry's warning to residents so that people can actively protect themselves and their relatives from disease, said the minister.
Hanoi has been stepping up precautionary measures to prevent the transmission risk of MERS-CoV, said the municipal authorities.
The city is conducting temperature screenings nearly 130,000 passengers from MERS-CoV- hit areas in 988 flights at Noi Bai International Airport. Medical centers also keep an eye on the health of over 2,000 people from the disease-stricken nations.