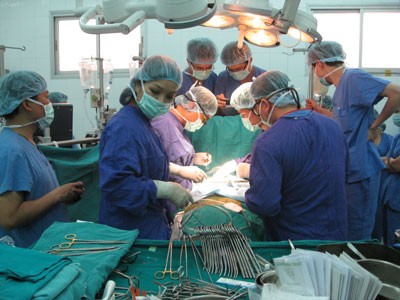 Doctors carrying out a  transplant surgery on kidney patients
Viscera of a 25-year-old brain-dead man saved the lives of four people suffering from life-threatening diseases, said Dr. Nguyen Tien Quyet, director of the Viet Duc Hospital in Hanoi on May 9.
On the night of May 8, thanks to the donation of viscera of a brain-dead man, the hospital carried out heart, liver and kidney transplant surgeries on a 23-year-old man from the northern province of Ha Nam, a 64-year-old man in Hanoi and two men below 30 years of age in Hanoi.
All recipients were at the last stages of their disease.
In addition, corneas of the dead man were transplanted on blind women at the National Eye Hospital in Hanoi.
All surgeries were successful and conducted at night and on the same day.