To prevent the pneumonic plague outbreak in China from spreading to Vietnam, Nguyen Huy Nga, head of the Department of Preventive Medicine and Environment, August 8 asked border quarantine agencies to closely supervise goods and people entering Vietnam from China.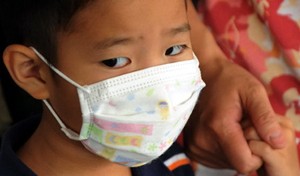 Chinese face an outbreak of pneumonic plague (Photo: AFP)
Mr. Nga warned that rats can carry the pneumonic plague to Vietnam if they are transported with imported goods.
People with high fever, swelling in the armpits or groins, and presenting symptoms of pneumonia should quickly visit health clinics.
Discussing the spread of pneumonic plague, Associate Professor Dr Nguyen Tran Hien, head of the National Institute of Hygiene and Epidemiology, said that the danger of an epidemic spreading to Vietnam is very low.
Since 2002, Vietnam has not reported any cases of pneumonic plague.
China has reacted quickly to the epidemic and taken various precautions to reduce the spread, he added.
Pneumonic plague is a very dangerous disease that can be transmitted from human to human with a high death rate.
Dr. Hien said that people should heighten their personal and environmental hygiene, and kill flies, mosquitoes, rats and fleas to prevent the disease.
In case people contract the disease, they will be quarantined and treated with antibiotics.