The Vaccine and Bio-technological Products Company No.1 (Vabiotech) expects to launch its first batch of A/H1N1 flu vaccine in the next six months if things go smoothly, the company's director said Thursday.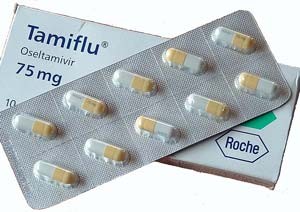 Tamiflu is currently used for swine flu patients across the world
Director Nguyen Thu Van said if it is the case, her company will become the first in Vietnam to produce this vaccine.
According to her, research and making this flu vaccine meets the World Health Organization's standards.

Vabiotech is one of three establishments in Vietnam studying the production of the A/H1N1 vaccine. The others are the Vaccine and Biomedical Products Institute and the Ho Chi Minh City Pasteur Institute.
On Thursday, Vietnam reported 15 more A/H1N1 cases (13 in the north, one in the south and central region each), raising the total in the country to 181.
According to the Ministry of Health, 157 cases are in the south, 15 in the north and nine in the central area. The ministry said all infected patients have been isolated and are undergoing treatment.
In reaction, the chief of the Department of Preventive Medicine and the Environment, Nguyen Huy Nga, repeated warnings about the possible danger posed by a combination of this virus with the H5N1 avian flu virus and an increase in the number of new infections this coming autumn and winter.
The Ministry of Health has prepared a broad range of measures to cope with the worsening epidemic.
WHO statistics shows that A/H1N1 flu has stricken 120 countries and territories as of July 2, with 77,201 confirmed cases, 322 of them fatal.