Over 500 international and domestic delegates attended the third Conference on Vietnam-France Medical Imaging and Nuclear Medicine in the central province of Thua Thien - Hue on April 21.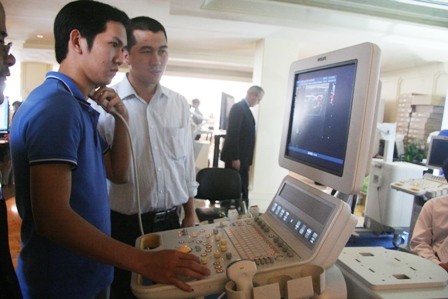 Meeting participants try a device displayed at the event (Photo: Dan Tri newspaper)
Jointly organised by the Vietnam Society of Radiology and Nuclear Medicine (VSRNM) and the French Society of Radiology (FSR), the three-day event will introduce programmes on emergency cardiovascular treatment and mental diseases as well as cancer and breast cancer diagnosis.
Hoang Duc Kiet, President of VSRNM said that since the first conference was held in Hanoi in September, 1995, the Vietnamese nuclear medicine sector has received support from the French government, France's GREF group and FSR with many lectures and scholarships to young Vietnamese doctors.
So far, VSRNM has gathered 800 members as specialists along with modern equipment for imaging diagnosis and nuclear medicine such as digital X-ray and colour ultrasound scanning equipment.
At the opening ceremony, the Hanoi Medical University conferred Honorary Professor titles on professors Philippe Devred, Michel Panuel and Laurent Pierot from France.