Vietnamese Prime Minister Nguyen Xuan Phuc yesterday received General Director of the World Health Organization (WHO) Margaret Chan at Governmental Headquarters in Hanoi capital as she paid working visit in Vietnam.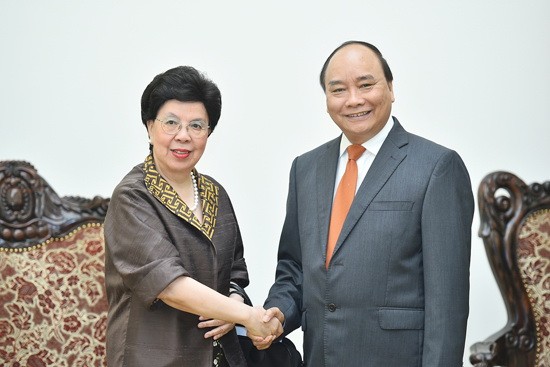 Vietnamese Prime Minister Nguyen Xuan Phuc and General Director of WHO Margaret Chan
At the reception, the WHO director congratulated the outstanding socio- economic achievements of Vietnam in previous time.
Ms. Margaret Chan suggested Vietnam should establish a self-contained agency to evaluate the quality of medicine and new healthcare technology.
Additionally, Vietnam needs to issue standards and regulations on valid working licenses for medical staffs and doctors.
PM Nguyen Xuan Phuc strongly affirmed that Vietnam is always interested in healthcare services and people's health protection, and makes more efforts to develop pharmacognosy adding that the country will pay attention to upgrade the infrastructure of healthcare services for local people at rural areas.