A ground breaking ceremony of the first orthopaedic institute in Vietnam was held yesterday inside the ground of military hospital 175 in Ho Chi Minh City.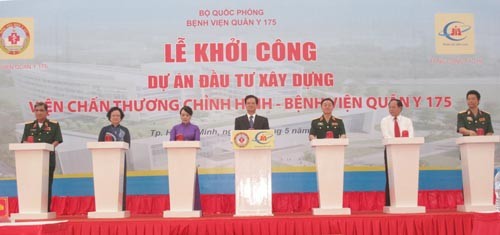 At the ground breaking ceremony(Photo: SGGP)
Vietnamese Prime Minister Nguyen Tan Dung asked military hospital 175 to focus on training and refresher course to improve treatment quality as well as access to advanced technologies and medical techniques in order to better serve the army and the public.
The 9-floored orthopadic institute has 500 beds with a total investment of VND2,300 billion (US$105,820,105). It is scheduled to complete in 2017.
The Prime Minister hailed the efforts made by the entire staff to make the hospital a big and modern medical center for the military in the south of Vietnam, asking the hospital to help train military doctors for other military hospitals nationwide, and provide assistance for hospitals at lower levels to increase health check-ups and treatment there.
At the ceremony, the PM awarded the first-class Independence Order to the hospital in recognition of its contributions to the country's nation-building and safeguarding cause.
The hospital is a part of the Ministry of Defense. It was established on May 26, 1975. Through 40 years, it becomes a general hospital with over 1,000 beds and over 1,400 staffs. It is for taking care of soldiers and high-ranking cadres and people in the South.
The hospital doctors have applied many advanced techniques such as hip and knee replacement, removing kidney stone through skin and treating cervical disc herniation by using Disc nucleoplasty, officially called percutaneous disc nucleoplasty, which sends pulses of radio waves into the nucleus of a herniated disc.