Viet Nam's first surrogate baby was born yesterday morning at the Ha Noi-based Central Maternity Hospital.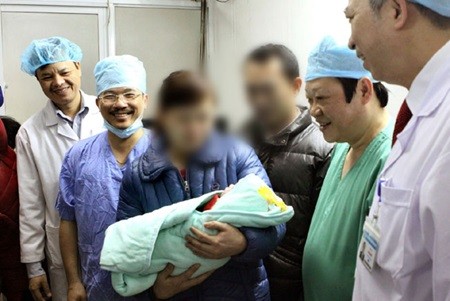 Deputy Minister of Health Professor Nguyen Viet Tien (second from right) and the parents of the first surrogate baby born in Viet Nam. — VNA/VNS Photo Duong Ngoc
The baby girl, weighing 3.6kg, was born at 7.25am by C-section to a 38-year-old woman from the northern province of Ninh Binh.
The happy mother said she had been trying to have a baby for the last 16 years.
This is the first surrogate baby to be born in Viet Nam, a year after local hospitals were granted permission to use surrogacy technologies.
Ever since the technology has been made available, hospitals have received more than 100 applications for the procedure, Deputy Minister of Health Nguyen Viet Tien said.
Viet Nam's Law on Marriage and Family allows close relatives to become surrogate mothers.
Surrogacy is permitted only in cases where the woman, for health reasons, is physically incapable of having children.
Eligible surrogate mothers must be between the ages of 21 and 40 and be physically healthy. They must already have at least one child. If she is married, she must also have her husband's approval before participating in the surrogacy case.
At present, three hospitals – the Central Maternity Hospital, the Tu Du Hospital in HCM City and the Hue-based Central Hospital – meet the technical requirements for taking up surrogacy cases.
Of the 60 patients approved by the Central Maternity Hospital, doctors have taken up 46 cases. The rate of success at the hospital was 50 per cent, Tien said.
Tu Du Hospital doctors have taken up 19 cases out of a total 33 patients who meet the requirements.
Meanwhile, Hue Central Hospital doctors have not yet carried out surrogacy procedures due to technical reasons.