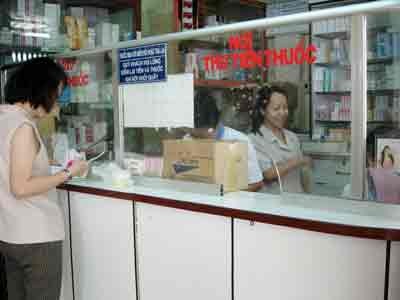 A patient's relative buy drugs at a hospital pharmacy in district 1. Soaring prices of medications  cause public concerns and drive poor patients to despairs ( Photo: Ngoc Anh)
Skyrocketing prices of drugs caused public concerns and drove poor patients to the depths of despair. Dang Nhu Loi, Deputy Head of the Vietnam National Assembly's Committee for Social Affairs, pointed out the problem lies behind the weaknesses of the drug sector and unreasonable bidding procedures in a talk with Sai Gon Giai Phong.
Currently, domestically-made medications only satisfied half of the demand but even if, Vietnam has imported 90 percent of materials from foreign countries.  Therefore, the country has been much dependent on oversea markets.
In addition, the importers were given a green light to decide prices which based on imported material. However, the problem is that drug prices would be higher that they are really if importers colluded with each other to raise prices meanwhile no relevant agencies has worked out effective measures to prevent it.
Furthermore, some patients complained medications in hospital pharmacies are sold higher than these outside. Just because bidding procedures are irrational. Social insurance which pays over VND4 trillion on medicines should have been present at bidding awarding meeting.
The Vietnam National Assembly's Committee for Social Affairs has proposed the Ministry of Health to hold a pilot massive bidding in big cities like in Hanoi and Ho Ch Minh City; afterwards, hospitals in the country could base on the pilot bidding to decide the prices.