A 61-year-old woman, identified as L only, says she had to pay a Ho Chi Minh City-based hospital nearly VND20 million (US$1,000) for offering one of her kidney to her nephew in 2009.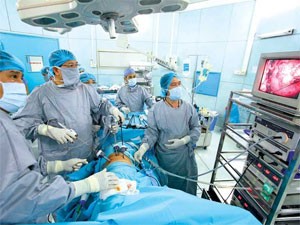 An operation for kidney implantation at a HCMC-based hospital
"I also have to pay VND2 million for every re-examination of my remaining kidney in the last two years. [She had to have her kidney re-examined twice a year]," she says.
Families of those who died from traffic accident will have to pay to donate their relatives' organs.
Many recipients opt for returning the money to the donor as they feel uncomfortable for that paradox.
"The repayment compromises the donations and accidentally turns them into organ purchases," says Dr. Tran Ngoc Sinh, dean of the Kidney-Urinary Department of the Cho Ray Hospital.
"How much should recipients pay for donors? Donors, on the other hands, still have to pay for their donation despite their health insurance. These paradoxes have been hindering organ donations for long."

The fact that organ donors have to pay relevant medical costs goes against the 2006 Law on Donation, Removal and Transplant of Parts of the Human Body, Sinh says.

Buying and selling organs is strictly forbidden by law.

Vietnam's social insurers could not support donors due to a shortage of bylaws providing implementation guidelines, says Luu Thi Thanh Huyen, head of the Heath Insurance Verification Department of the HCMC Social Insurance Agency.
"Although donors are offered health insurance for free, there is no bylaw regulating which agencies are responsible for paying relevant cost of organ and tissue donations," Huyen says.
The HCMC Social Insurance Agency pays hospitals all costs of organ and issue, says deputy general director Nguyen Minh Thao of the agency.
"We ensure that donors are taken care for free till they"
Tong Thi Song Huong, head of the Ministry of Health's health insurance department, says the law of health insurance regulates that organ and tissue donors are offered health insurance for free.
Yet she assumes that there is no detailed regulation on supports for organ and tissue donors.
Statistics indicate around 5,000 patients are treated with artificial kidney in HCMC annually. More than 200 recipients received kidney implantation at Cho Ray Hospital since 1992.