Representatives from WHO on May 16 had a meeting with the management of Health Department to collect information on the vaccine injection accident. They have watched the symptoms of the victims at the Pediatrics Hospital I and doctors' treatment formula.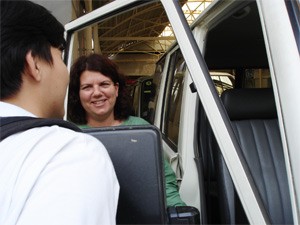 SGGP reporter (white) meets WHO representative at district 5 health center on May 17(Photo:U.Phuong)
They offered some suggestions and latest information to doctors of Pasteur institute to conduct investigation on the recipients of the vaccine and the epidemic risks on a large scale.

Conclusion will be based on tests of vaccine samples and epidemic investigation carried out by WHO.

Because of the public's misgivings about vaccine preservation process in Viet Nam, Trinh Quan Huan, Deputy Health Minister, had a meeting with Sai Gon Giai Phong reporter on May 16, and he said the Health Ministry has so far been keeping a close watch on vaccine management, including service vaccine being provided by licensed health units.
"It is not true to say the accident happened due to faulty preservation process. If preservation is not correct, vaccine is only out of date; it can not cause such serious accident." he added.