Regarding the accidents involving Priorix vaccine in Ho Chi Minh City, Deputy Health Minister Trinh Quan Huan said the ministry has requested health units to investigate the epidemic as well as the vaccine manufacturer, the National Institute for Drug Quality Control, to independently carry out tests on vaccine quality of GlaxoSmithKline Biologicals s.a lot.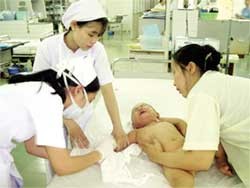 Ngo Viet D., one of victims, is being treated in the hospital
Also, the ministry has sent a vaccine sample to the drug quality control laboratory of the World Health Organization (WHO). In an attempt to clarify the cause of this serious problem, the ministry has invited WHO representatives to Viet Nam for a joint investigation with Vietnamese experts into the vaccine quality.

Moreover, the ministry has formed a team of experts to deal with the issue and, in particular, test vaccine sample.

Mr. Huan confirmed that in case the cause of the accident is the vaccine's bad quality, the ministry will immediately cancel the approval and the problem will be settled in line with international legal practices.

One of the two patients being treated in the Ho Chi Minh Pediatrics Hospital I (PHI), Hoac Chi V., 17 months old, in District 5, can now breathe by himself and eat a little.

However, Nguyen Minh Q, 13 months old, is breathing with the help of the aspirator and his blood is being filtered to remove toxins. Three children Le Ngoc Tam Nh, 14 months old, Ngo Viet D, 15 months old and Pham Thanh Nh, 13 months old are recovering well; their blood pressures are stable, and swellings lessen.