An Indonesian man who died of bird flu after nursing his sick son may have caught the virus in a case of direct human-to-human transmission, but the virus did not spread very far if this did happen, the World Health Organization said on Tuesday.
It would not be the first case of human-to-human transmission of H5N1. WHO believes some limited human-to-human transmission has occurred before in other countries, but as in the Indonesian case, it did not last for long.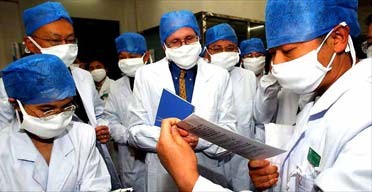 WHO officals
WHO gave its first details of the case of a family cluster of H5N1 avian influenza infections in which six people have now died, and said it was still looking for the source of the outbreak. It also said genetic sequencing of the virus that killed them showed nothing unusual.
The 32-year-old man from Kubu Sembelang village in the Karo District of North Sumatra is the latest to die and WHO said Indonesian health officials had confirmed he was infected with the virus.
"The father was closely involved in caring for his son, and this contact is considered a possible source of infection.
Investigators have had trouble finding out just what happened in the village, where a woman appears to have been the first to become ill at the end of April.
Preliminary findings indicate that three of the confirmed cases spent the night of 29 April in a small room together with the initial case at a time when she was symptomatic and coughing frequently.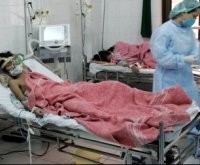 H5N1 victims
"All confirmed cases in the cluster can be directly linked to close and prolonged exposure to a patient during a phase of severe illness. Although human-to-human transmission cannot be ruled out, the search for a possible alternative source of exposure is continuing."
WHO stressed the virus was not yet spreading easily among people -- a necessary first step toward a feared pandemic.
"To date, the investigation has found no evidence of spread within the general community and no evidence that efficient human-to-human transmission has occurred," the WHO said.
And samples from the victims have not shown any big genetic changes
WHO is trying to encourage countries to report suspected bird flu cases quickly.
(Source: Reuters)