As swine flu spreads in Vietnam, it is important for the public to remain aware of the latest situation and of protective measures, the WHO's Vietnam representative said.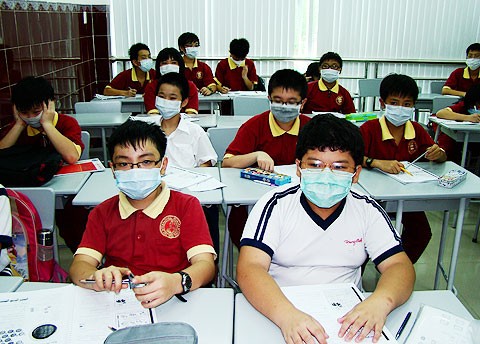 Children at Asia Primary school in Ho Chi Minh City wear facemasks in class as a precaution against swine flu
Dr. Jean-Marc Olivé also warned of the possibility of the swine flu virus combining with H5N1, since bird flu is still prevalent in some provinces, to mutate into a more virulent strain. 
Following the death of a 29-year old woman in the central province of Khanh Hoa on August 3, Ho Chi Minh City residents rushed to hospitals for tests. At the general Hospital in District 8, for instance, around 450 people asked to be tested for the flu.
 
But Dr. To Song Diep of the Tropical Diseases Hospital said the tests are only conducted when doctors an infection. The hospital tests 40 samples a day on average.
Dr. Phan Cong Hung of the Pasteur Institute said the tests should be done selectively to avoid waste of money and doctors' labor.
Those tested should have been in close contacted with infected people, visited disease zones and suffer flu symptoms like fever, cough and running nose, he said.
People with diabetes and high blood pressures and children under six should also be tested, he added.
The hospitals said, however, they have enough kits to do the test for everyone who asks for it.
Dr. Phan Van Nghiem of the city Department of Health told participants at a meeting with the steering board for the flu August 6 about a new treatment that takes only five days instead of the earlier seven.
Dr. Tran Tinh Hien of the Tropical Diseases Hospital said since there have been no instances of resistance to Tamiflu in Vietnam yet, the virus has not mutated.
The Ministry of Health on August 6 reported a further 39 cases, taking the country's tally to 1,043 infections and one death.
The director of the District 10 Department of Preventive Health, Nguyen Van Tung, said an 11-year-old studying at the Asia Primary School tested positive for the virus. Health authorities have tracked down his 21 classmates to monitor them and disinfected the school.
The Tu Liem District Department of Health in Hanoi said a teacher at Lomonoxop High School has tested positive as has a second grader at Nam Thanh Cong Primary School in Dong Da District.
The city Department of Education and Training has ordered schools not to reopen for the new academic year, due in mid-August.