Vietnamese Ministry of Health (MOH) held a meeting in Hanoi on April 7 to mark the World Health Day and the 63rd anniversary of the World Health Organization (WHO).
The rallying cry for World Health Day this year is "Combat drug resistance! No action today, no cure tomorrow." It seeks to raise awareness about what drives antimicrobial resistance and how to halt it.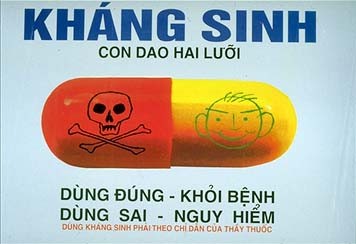 The poster warns of the misuse of antibiotics
WHO has warned of a possible return to the days before antibiotics, unless urgent global action for combating the growing problem of resistance to drugs is taken by concerned bodies.
The health organization cautioned that misuse and irrational use of drugs is weakening the resistance against diseases such as tuberculosis and malaria that should have been contained decades ago. At the same time, other age-old diseases are on the rise, with the possibility of no cure.
WHO will launch a six-point policy package on World Health Day, in an effort to fight drug resistance. This will include committing to a comprehensive national plan with greater accountability and community engagement, strengthened surveillance and laboratory capacity, ensured regular supply of good-quality medicines, regulated and rational use of medicines and proper patient care.
WHO said that antimicrobial resistance is a global concern because not only does it kill but also because it increases health costs and threatens patient care.
Of an estimated 440, 000 new multi-drug resistant TB cases across the globe per year, at least 150,000 people have died of extensive drug resistant-TB identified in 58 countries to date.
Luong Ngoc Khue, head of the MOH Health Examination and Treatment Department, said that a recent survey of 18 hospitals carried out from 2009 to 2010, showed people spent 41 percent on antibiotic medications, especially the new generation.
The survey collected information in Hanoi, Ho Chi Minh City and the northern province of Hai Phong. It showed that high resistance takes place in third and fourth generation cephalosporin 4 with 66-83 percent in aminosid and 60 percent in fluoroquinolon. 
The survey pointed out that resistance rate of imipenem has doubled compared to that of 2006 from 18.4 percent to 35percent in 2009.
In response to the threat of antimicrobial resistance, WHO developed the first Global Strategy for Containment of Antimicrobial Resistance in 2001 but strategy for containment has not been widely implemented.
While action is necessary, commitment, implementation and accountability have also lagged behind. The newly launched six-point package will engage all WHO 193 Member States and the global health community to foster action for change.
The World Health Day message targets all who deal with matters related to health such as health ministers, policy-makers, medics, the public, patients, society, pharmaceutical industries, health institutions, pharmacists and the media.

Attended the meeting was Health Minister Nguyen Quoc Trieu, Dr Graham Harrison, Acting WHO Representative in Vietnam and repsentatives from relevant agencies