Police are investigating the death of a woman in the highland province of Gia Lai when she was in labour, said lieutenant-colonel Tran Trong Son, deputy head of police in Duc Co District in Gia Lai Province on May 31.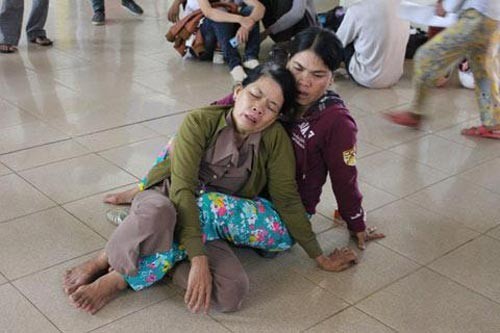 Relative of the dead woman faints on hearing the sad news
Nguyen Thi Minh Tam, 40, from Ia Dom Commune of Duc Co District was in labour when she was taken to the General Hospital in Gia Lai Province on May 29. At 1pm on the same day, doctors examined her and concluded that she and her baby were in good health.
Until 6.15pm doctors said the mother's womb and the baby were still in good condition; however, by 9.30pm the mother began to experience abdominal pain and convulsion fits.
When Tam's condition worsened, only Tam's mother was with her and she was too old to realize her state. Another pregnant women in the same room realised the urgency and shouted for help, but by that time Tam had turned blue and her face had become swollen.
Doctors conducted a surgery to take out the baby, but soon reported to Tam's relatives that the baby had already died in the womb and that Tam had gone into a coma and died soon after.
In the morning of May 30, her relatives took her and the baby home for burying and also filed a complaint against the hospital's director, the Department of Health and the police, asking for a clear explanation of the death of both mother and child.
Since April 24 till now, nine local women have died during childbirth although they were reported to be in good health before giving birth, said Nguyen Duy Khe, head of the Department of Mother-Child Health under the Ministry of Health.
Currently the ministry is sending three inspection teams to the northern province of Hung Yen, the central province of Quang Ngai and the southern province of Dong Nai, three among six provinces to report childbirth deaths. Three of the cases uncovered so far are believed to be associated with Amniotic Fluid Embolism (AFE), a difficult-to-treat obstetric complication, even when treated abroad.
Khe affirmed that the ultimate conclusion was not made as the ministry is still waiting for the results of a forensic examination and reports from inspection teams, adding that the ministry will not cover up wrongdoings of any health clinics.
The ministry is urgently checking the ability of personnel as well as equipment of hospitals across the country to strengthen mother and baby health care, said Khe.