A 23 year old woman, Ly Tai Mui, the first person infected with H5N1 virus in the northeastern province of Quang Ninh, died February 21 after receiving 18 days of hospital treatment, the Quang Ninh General Hospital said.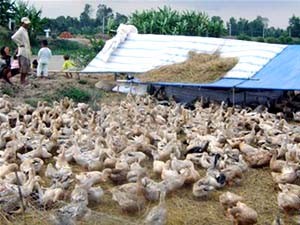 A flock of rice field ducks in the Mekong Delta. Bird flu has killed one woman in Quang Ninh Province February 21. (Photo: Tien Phong)
Although doctors at the province's general hospital had coordinated with the Vietnam Institute for Clinical Medicine and Tropical Diseases and Bach Mai Hospital, the patient's condition became more serious, presenting pneumonia, liver failure and multiple organ failure.
Bird flu returns to Mekong Delta
In related news, bird flu has returned to four Mekong delta provinces: Ca Mau, Bac Lieu, Soc Trang, and Hau Giang.
In Ca Mau, bird flu has been found in four communes in the districts of Tran Van Thoi, Thoi Binh, and Phu Tan. 10,000 birds have been destroyed, mostly ducks that live in rice fields, most of which had not been adequately inoculated.
Authorities in Soc Trang, Bac Lieu and Hau Giang are rushing to prevent the epidemic.
Nguyen Hien Trung, head of the Department of Animal Health in Hau Giang Province, said that four in five flocks of ducks, 2,970 birds in total, have avian influenza A (H5N1) in Vi Thuy District.
Three communes in Long My District of Hau Giang are also faced with the epidemic.
In Soc Trang, around 10,000 of birds in the districts of My Xuyen and Nga Nam have been destroyed.
At present, farmers in the Mekong Delta are harvesting winter-spring rice crops. This is also the most worrying time for provinces in controlling rice field ducks.
The bird flu will spread to other provinces in the Mekong Delta, such as Dong Thap, Tien Giang and Vinh Long, Can Tho Regional Animal Health Center forecasts.
Related article:
Northern woman suspected to have bird flu