A woman from Can Tho city has had a successful kidney transplant operation on July 11, in which her existing horseshoe kidney was replaced, said Dr. Bui Duc Phu, director of the Central Hospital in the central province of Thua Thien-Hue.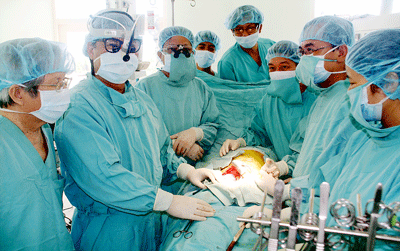 Doctors at the Central Hospital in Thua Thien-Hue Province conducting the kidney transplant operation (Photo: SGGP)
Hua Cam Tu, 37, went into the operation theater for her kidney transplant operation at 7.30am on July 11 and was brought out by 4.30pm.
This is her second operation as earlier surgeons had botched her operation after failing to detect her actual condition.
Tu was born with horseshoe kidneys, a congenital disorder affecting one in 400 people, and had an unsuccessful kidney operation last year at the General Hospital in Can Tho city, where doctors apparently goofed up the operation when they failed to check on her existing condition despite a CTC Scan.
The management board of the hospital then decided to suspend the surgical team for their blunder and issued a warning to doctors in the CTC Scan Division as they failed to read the scan, leading to the surgical team's blunder.
As per instructions from the Minister of Health, a team of doctors from the Central Hospital led by Dr. Bui Duc Phu arrived to examine Tu and moved her to the Central Hospital in the central province of Thua Thien-Hue for the kidney transplant operation.
Doctors kept a close watch on the patient for six months before conducting the operation.
Tu's husband, 42-year-old Nguyen Thien Tri, spoke to the media, "Many benefactors came to the hospital to encourage my wife and me since news of my wife's operation was released. Many of them offered to donate a kidney to my wife without anything in return. We want to say thank you to all of them".
Related articles:
Doctors blunder in Can Tho hospital, remove both kidneys of patient
Can Tho Hospital to deliberate on goofed up operation
Scientific council agrees doctors blundered on kidney operation