Apparently surgery procedures went very well for a 51-year-old woman admitted for laryngeal surgery, who has now reportedly gone into coma or declared clinically dead in the General Hospital in Hanoi.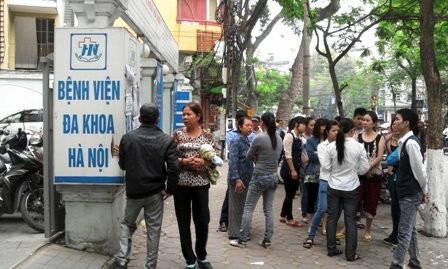 Tuong's relatives gather in front of the General Hospital
Director Hoang Son of the General Hospital in Hanoi made this disclosure at a press briefing on November 15.
Son said that soon after the apparently safe surgery, 51-year-old Tran Thi Tuong from Tu Son District in the northern province of Bac Ninh, went into a coma.
The scientific council has since checked all treatment records and procedures and arrived at the conclusion that Dr.  Nguyen Thi Hoai An had conducted all the right procedures for the woman's laryngeal microscopic surgery.
Dr. Hoai An gave patient Tuong an anaesthesia, Xylocaine Spray, which is listed in the Ministry of Health's index. Moreover, in a previous surgery to cut polyp of larynx on October 30, the patient had been given the same drug without any untoward reaction.
The hospital is allowed to conduct such surgeries and Dr. Nguyen Thi Hoai An is allowed to undertake such an operation, said the director.
After the hospital was unable to treat her further, Tran Thi Tuong was transferred to Viet Duc Hospital. For more than one week now, Tuong has been on a ventilator and lying in coma, but doctors have been able to record her pulse and blood pressure.
When Tuong went into coma after her surgery, her relatives gathered in front of the General Hospital and started throwing abuses and insults at the facilities and staff there.