Two training workshops on "Oxygen management on pre mature infants during intensive care" are currently being organized in Ho Chi Minh City by the Ministry of Health, East Meets West Foundation, National Maternity Hospital, Hanoi Children Hospital, Children Hospital No.1 and Tu Du Hospital.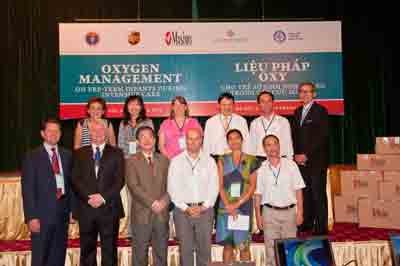 Representatives at the presentation ceremony of oximeters to 95 hospitals in Vietnam (Photo: NT)
As part of the training, Masimo Corporation, a US-based global medical technology company, provided 105 pulse oximeters to 95 hospitals in Vietnam for their intensive care units.

"Respiratory distress is considered the most common cause of death among infants, particularly for pre-mature babies. Oxygen therapy is critical for treatment in such cases and knowing how to manage oxygen is vital for saving a new born life. Lack of oxygen can cause infants to be born with deficiencies like eye vision problems or respiratory ailments. The pulse oximeters donated by MASIMO will help in improving neonatal care quality," said Dr. Nguyen Viet Tien, Director of National Maternity Hospital.

190 doctors and nurses from the 95 hospitals that have been provided pulse oximeters will receive training in managing the supply of oxygen when treating newborn infants, thanks to the generous support of Masimo's Vietnam distributor, Charles Wembley Company.
According to Charlie Tan, CEO of Charles Wembley, "We are committed to supporting the care and safety of infants in Vietnam and are proud to have our staff provide comprehensive training needed to equip hospital staff with specialized skills in oxygen therapy for newborns, pulse-oximetry and prevention of Retinopathy in premature births."
The 105 brand-new pulse oximeters, the best currently available in the international market for intensive care units, are expected to benefit at least 30,000 newborn babies in Vietnam every year.