Doctors at the Children Hospital in the central city of Da Nang managed to save the life of a 10-year-old girl who was stung by bees and had to have almost 100 bee-stings removed from her body.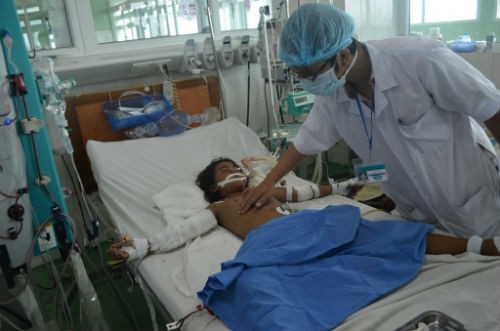 The young girl being treated in Children Hospital in Quang Ngai Province
Pham Thi Tho, a young girl from the H'Re ethnic minority group in Ba To District in the central province of Quang Ngai, was stung by a swarm of bees while tending to her oxen who accidentally trampled over a wasps' nest on June 21, said her father, Pham Van Da.
The girl fell unconscious on the spot and was rushed home by her companions.
At the time the girl was taken home there was no one at her place as her parents were out working in the fields. When they returned they used some home remedies to treat her stings.
Soon she developed a fever and lost her appetite so they took her to the General Hospital in Quang Ngai Province after which she was transferred to the Children Hospital in Da Nang City on June 24.
According to doctors, continuous filtering of her blood helped save the poor girl's life. Unfortunately, the treatment cost hundreds of thousands of dong, and as her family is very poor and neither does she have a health insurance cover, it is up to the benevolence of people in Vietnam to help her bear the cost of her treatment.