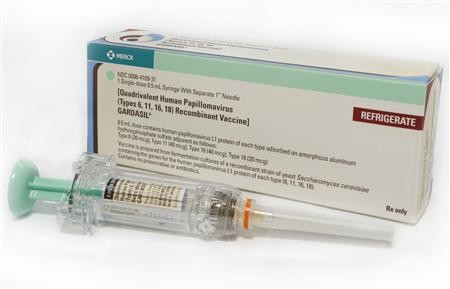 Girls as young as 11 and young women up to age 26 should get Merck and Co.'s Gardisil vaccine
Girls as young as nine and young women up to age 26 should be able to get Merck and Co.'s Gardasil vaccine aimed at preventing a sexually transmitted virus that can cause cancer, a panel of U.S. experts said on Thursday.
At their discretion, physicians could vaccinate as young as nine, the panel decided. The group also voted to include the vaccine in the federal Vaccines for Children Program, under which the government buys vaccines for uninsured or poor schoolchildren.
The Advisory Committee on Immunization Practices advises the U.S. Centers for Disease Control and Prevention, which in turn advises school districts and other authorities.
The U.S. Food and Drug Administration licensed Gardasil for use in women and girls nine to 26 years of age earlier this month. It protects against four types of human papilloma virus, also known as HPV or human wart virus.
The idea is to vaccinate girls before they ever get infected with the virus. About 15 percent of U.S. 15-year-old girls are already infected with at least one strain of HPV, said Dr. Carol Baker of the National Foundation for Infectious Disease, who was at the meeting.
"I think this is going to be a great cancer prevention tool but it is not going to be effective for about 10 years," said Baker.
This is because genital wart infection takes a while to cause cancer.
Clinical trials have shown that a three-dose course of the vaccine can prevent close to 100 percent of the lesions that can become cervical cancer, and genital warts. Women get regular Pap smears in most developed countries to detect these lesions before they turn into tumours.
The virus also can cause much rarer penile cancer in men. The HPV 16 and 18 strains of virus are responsible for about 70 percent of cervical cancer cases.
The CDC says more than 50 percent of sexually active women and men will be infected with one or more genital HPV types during their lifetimes.
Cervical cancer kills about 300,000 women worldwide each year, including about 4,000 in the United States.
Dr. Cynthia Rand of the University of Rochester in New York said she believed most people would get the vaccine. She has started a series of studies on how many people would take the vaccine if offered
"The minority of parents we interviewed didn't think their children wouldn't need it because their children wouldn't be having sex. But they thought it would be needed in the general community," she said in a telephone interview.
At least one state legislative group, Women In Government, will be supporting the vaccine.
"We believe this vaccine is a medical breakthrough that will benefit adolescents and young women throughout the country," the insurer WellPoint Inc said in a release.
(Source: Reuters)