Bach Mai Hospital in Hanoi announced on April 19 the death of a 23-year-old man from the northern province of Yen Bai from H1N1 virus, after undergoing one week of intensive care.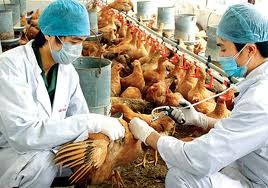 Vets injecting vaccine to poultry to prevent the avian flu (Photo: website of Yen Bai Province)
The patient had experienced symptoms of flu such as fever, headache, and body ache. He self-medicated himself from a nearby pharmacy when his fever showed no signs of abating.
He finally went to the General Hospital where he was diagnosed with lung pneumonia.

When he continued to suffer from breathing problems he was transferred to Bach Mai Hospital. However, despite all doctor's efforts to save his life, the man succumbed to the disease.

Test results showed positive for H1N1 virus. The Ministry of Health said that within April, two people from Yen Bai Province have died of H1N1 and one child from Dong Thap Province in the Mekong Delta has died of H5N1.

On the same day, Tran Xuan Hoa, deputy head of the People's Committee in the south central province of Ninh Thuan declared an H5N1 Avian Flu pandemic on swallows and ordered destruction of all infected birds.

Related health agencies have been asked to step up precautionary measures to curb the spread of the virus. Unknown people have been banned from entering breeding houses and new technology has been applied to sterilize the affected areas.