WACO, Texas (AP) -- The seven-day holiday of Kwanzaa began Monday, but the celebration started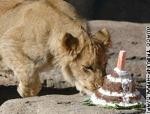 Kwanzaa, a South African lion, gets a taste of his birthday cake.
early at the Cameron Park Zoo.
A South African lion named "Kwanzaa" celebrated his first birthday, and the weekend party included 10 pounds of horse meat fashioned into a cake, whipped cream and a carrot representing a candle.
Kwanzaa was born at the zoo on Christmas Eve 2004, and now weighs more than 115 pounds.
Zookeeper Manda Butler said Kwanzaa will be on display through January as crews prepare to send him to the zoo in Birmingham, Alabama.
The Kwanzaa holiday celebrates African-American culture