1920
According to a report by French secret agents, Nguyen Ai Quoc (an early alias of Ho Chi Minh meaning "Nguyen the Patriot") held a clandestine meeting with the general secretary of the Alliance of Human Rights Association, an organization working to support colonial peoples from imperialists' harsh policies.
1924
Nguyen Ai Quoc agreed to work at the Eastern Committee of Communist International, also known as the Third International, an international Communist organization founded in Moscow in 1919.
1928
Nguyen Ai Quoc, under the penname Wang, wrote an article titled "Worker movement in India" for Inprekorr, an information bulletin of the Communist International.
He wrote: "Although they, the working classes, are unorganized and coward of those following the reformism, poverty makes the Indian proletariat more progressive."
1948
President Ho Chi Minh continued to take part in a Government committee meeting and signed some important decrees, including one for the issue of the government bond to support the people's resistance against the French (Decree 160) and another for presenting the first-class military medals for the first time to three army units: Liberation Unit, Bac Son Guerilla Unit and the Southern Insurgent Unit .
He also issued Decree 165 to change the name of the Commanders-in-chief of the National Military and Militia into the Commanders-in-chief of the Vietnam's National Army and Militia.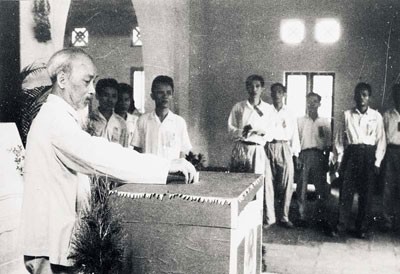 The file photo shows President Ho Chi Minh casting his vote at a voting station in Hanoi in the general election on April 26, 1964
1961
At a meeting held by the Politburo to discuss the food purchasing policy, Ho Chi Minh said cooperatives should set up rice funds to assist those facing food shortages. He said Politburo members should think about appropriate duty on rice for people at that difficult time when the country was facing a shortage. He emphasized that the market needed to be free.
1964

Speaking at a meeting with voters in Hanoi, Ho Chi Minh said he had been a member of the National Assembly for 20 years and did not retire to enjoy more leisure time because he wanted to see "The North and the South unify / I will be happy to see the unification scene."
On hygiene and cleanliness in Hanoi, he said: "We wash and brush our teeth everyday, we should also tidy up the town. We ought to make the town cleaner and cleaner."
1967
Uncle Ho arrived in China for treatment for his disease. One year later, on April 14, 1968, he was in a convalescence home where he composed the poem " Mau Than springtime," which was translated by Phan Van Cac:
Flowers are in bloom in April
Ten thousand flowers display their colors of light purple and pink
White birds perch on lakes, searching for fishes
Orioles whoosh into the sky
Where black clouds leave
Happy news from the south spreads.
By Duong Trung Quoc* and co-writers
*The author is a historian and member of the National Assembly